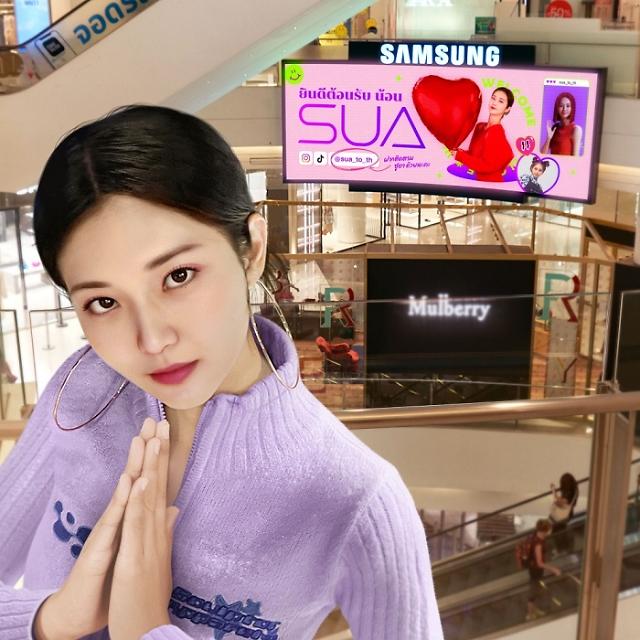 SEOUL — Sua, a digital human inspired by a K-pop star, has made her international debut as an advertising model who will appear on large billboards and electronic boards set up at landmarks in Thailand. Sua is the first South Korean virtual human to enter Thailand.
Sua founder On Mind said he signed an exclusive three-year contract with Dynamic Digital Display (DDD), a Thailand-based digital signage provider, to actively support Sua's business in Thailand and other countries. Southeast Asian countries. On Mind is a 3D virtual human development wing of Neptune, a mobile games and software company affiliated with South Korean web services company Kakao.


"Through this opportunity, we will spare no effort to publicize the status of South Korean technology while showcasing Sua's high utilization and quality in Southeast Asia," an anonymous official said. 'On Mind in a statement on October 14.


Sua is the first virtual human in South Korea to have real-time interactions based on a cross-platform game engine developed by Unity Technologies. Its advantages are human-like facial expressions, natural movements, and friendly charm.
Sua has attracted attention due to her realistic and natural appearance. In June 2021, On Mind partnered with AMD, an innovative American technology company, to enable Sua to have more realistic and natural hair through hair and fur rendering and simulation technology.
In September 2022, SK Telecom (SKT), one of the major mobile operators in South Korea, chose Sua as a model to announce its AI service. Unlike other human-based virtual commercials that relied on dubbing voice actors, Sua can deliver messages using her own voice created through AI-based text-to-speech technology. This is the first time that a virtual human has been adopted as an advertising model for SKT.
Engineering work focused on computer graphics to create a natural performance between real people and virtual humans. SKT implemented an AI voice suitable for Sua's crisp and clear images using AI-based text-to-speech technology to add more natural vitality to delicate facial expressions.

© Aju Business Daily & www.ajunews.com Copyright: Nothing on this site may be reproduced, distributed, transmitted, displayed, published or broadcast without the permission of Aju News Corporation.