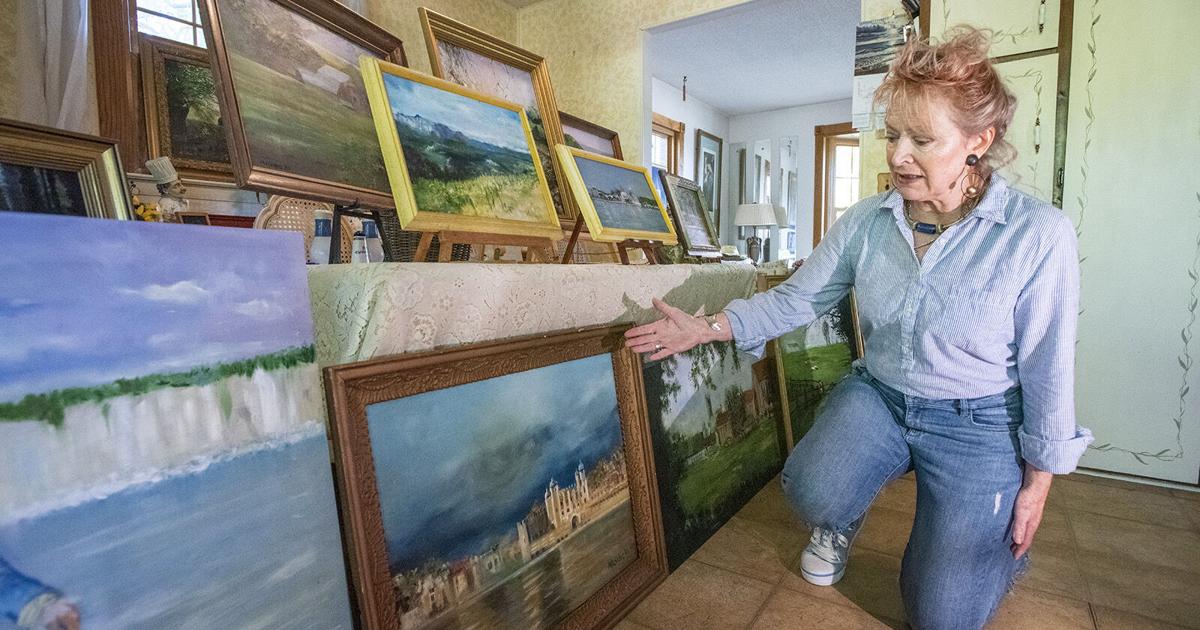 For more than three decades, Melanie Roides of Elizabethtown has called Kentucky home. But a conversation with her will quickly reveal that she did not pick up the southern accent.
"People have always said to me, 'Where are you from?' she said. "I say, well, here. They kind of look at me, is she trying to be funny or what? I've lived here longer than anywhere else, but of course I don't don't really look like a native, do you?"
Born in London, England, Roides' journey west was catalyzed, like so much else in her life, by her love and talent for the humanities and art.
At 18, she entered university in England to study art, encouraged by a teacher who recognized her talent. But she felt a strong urge to travel and her wanderlust brought her to Germany to work for the US Army as a graphic designer.
She designed re-engagement posters and used her love of travel as inspiration.
"I always pushed the idea of ​​seeing Europe," she said.
She also had the opportunity and resources to learn calligraphy, which she used to personalize promotion letters for soldiers.
There, in 1987, she met her husband, Paul, who was from upstate New York and stationed in Germany. Paul also had a love for language and knowledge.
"We would go through the dictionary, choose a letter and look up five words that we didn't know the meaning of to share with each other," she said.
The two married in 1989, and a few weeks later her husband was ordered to report to Fort Knox.
She left and said she quickly fell in love with the area and its people. She said the generosity of locals made a very positive impression on her.
One day, his battery died in the parking lot of the library.
"I had three offers for a boot while I was still in the library parking lot," she said. "I went to the mechanic we use, a lovely guy, and it was the end of the day, but he put in a new battery."
She decided to go back to school, earning a bachelor's degree in literature from Western Kentucky University and a master of arts in humanities from the University of Louisville.
Roides' love for the humanities has not only been a driving force behind the direction of his life, but also a tool to record his travels.
"I've kept a diary of every day of my life since 1967," she said.
She was only 11 when she started keeping a diary on her way to secondary school in England.
"I thought, 'My life is going to change because now I've grown up; I'm going to big school," she laughs.
Along with an account of activities and events, her journals are filled with inspirational quotes and information about the books she has read.
"I just like to write moving or meaningful quotes in some way," she said.
Every year, Paul gives her a new newspaper.
"He always knows what to get me because it's something I'll use," she said.
Roides started oil painting in 2018 and since then has produced around 50 works of art in this medium, many of which are based on photographs she took during her travels in over 20 countries and almost all states of America.
Her work, including her calligraphy, was featured in a 2020 exhibition at the Morrison Gallery at Elizabethtown Community and Technical College.
She said she's not one to make plans, but she's always up for a challenge, whether it's learning calligraphy or tackling one of the artistic opportunities that were offered to him in his life.
"I'm always going to try something because, my thought is, if it doesn't work, so what?" she says. "I just think you shouldn't be too shy when it comes to doing something creative; do it or don't.
Her home in Elizabethtown is filled with her passions, from artwork to the vintage clothes and shoes she collects. She and her husband often take walks near Patriot Parkway; she has covered 726 miles this year.
Roides still loves to travel, but the warm relatives she met in Kentucky more than 30 years ago remind her of where her home is.
"I'm always so happy to come back here just because I think it's a state where people see themselves as their brother's keepers," she said.