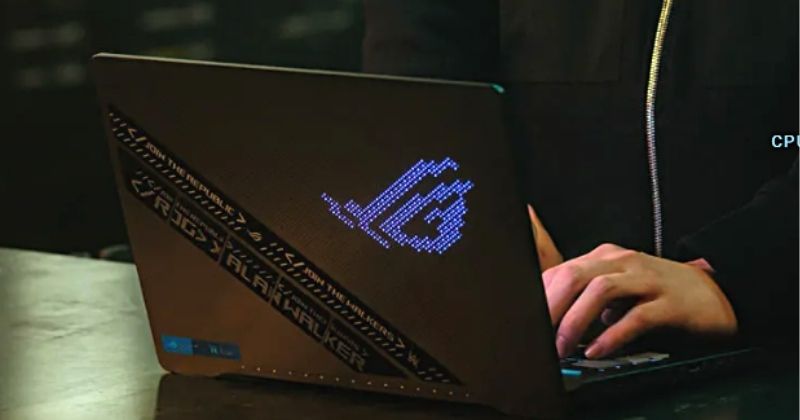 Asus this year really surprised us with a rather strange and unique collaboration for one of its gaming machines with electronic music artist Alan Walker and brought us the Asus ROG Zephyrus G14 Alan Walker Edition.
Read also: Asus ROG Strix Scar: No-Compromise Gaming Laptop, No Performance Issues
I got to play with this machine for a few weeks and here are five things about this laptop that really blew me away!
Compact and lightweight
The Zephyrus G14 Alan Walker Edition is a very compact machine, featuring a 14 inch panel, with slim bezels with a very light frame weighing only 1.70 kilograms. But the lightweight nature doesn't mean it reduces build quality.
It looks like the G14 launched last year with a few cosmetic tweaks here and there. From the hinges that lift the laptop very slightly to the wrist rest, the laptop has no flex. The keyboard is fun to type and the trackpad is one of the most responsive I've used.
Plus, the slightly boxy aesthetic adds uniqueness to this portable powerhouse while still providing some space for full-size ports – one HDMI 2.0b port, one USB 3.2 Gen 2 Type-C, two USB 3.2 Gen 1 Type-A, a USB 3.2 Gen 2 Type-C (with DisplayPort support, power supply) and even a headphone jack.
Read also: Asus ROG Flow X13: Powerful gaming laptop in a convertible design
Crisp and smooth display
The almost edge-to-edge 14-inch IPS panel features a resolution of 2560 x 1440 pixels, it's a pleasure to watch whether you're browsing the web, working on emails, or even gaming .
The IPS nature of the panel means it offers stunning viewing angles and support for a 100% DCI-P3 color gamut, which means the panel is sharp enough to edit images, videos on the go. with almost perfect color accuracy.
The panel has a refresh rate of 120Hz, which allows it to run smoothly with every movement of the user interface. It felt great playing FPS titles like Valorant and CS: GO.
Also Read: Asus Zephyrus S15 Delivers Crazy Performance In A Portable Form Factor
Anime matrix cover
Gaming laptops are often known to be top notch in terms of aesthetics, but even with the minimal design cues of the G14 Alan Walker Edition, they have something that provides a bold contrast to the machine's appearance. – the Dot Matrix LED panel like those seen at last year's G14.
You have the option to create matrix designs to whatever you want from the built-in software or you can select one of the predefined designs. It's a truly eye-catching inclusion that takes the laptop's cold quotient to a whole new level.
Performance
While much of the ROG Zephyrus G14 Alan Walker edition is similar to last year's G14 model, this year they've taken a huge step forward under the hood.
The current generation switches the AMD Ryzen 9 5900HS 3.1 GHz processor (with 16MB cache, up to 4.5GHz) with 16GB of DDR4 memory. In the graphics department, you get Nvidia's latest RTX 3050 Ti GPU with 4GB of GDDR6 memory.
In terms of performance, the CPU and GPU represent a huge leap forward compared to their predecessors. I found the laptop's comfort zone to be when playing on Full HD resolution and not the QuadHD it packs.
Cyberpunk 2077 Full HD playback worked at 42 fps with DX12 and Ultra settings but with RTX disabled. On the other hand, at QHD resolution, it barely becomes playable from 26 to 27 fps.
Forza Horizon 4 on the other hand is a really well optimized title. In Full HD it gave a good 107 fps while in QHD it gave a good 95 fps.
The control with its ray tracing quality ran at an impressive 45 fps with Full HD settings, while increasing the resolution to QHD brought the fps down to 25-28 fps, making it downright unplayable.
Also Read: Asus ROG Strix Scar: No-Compromise Gaming Laptop With No Performance Hiccups
Alan Walker Kindness
The laptop really celebrates Alan Walker with the A and W keys bearing the Alan Walker symbol, the cover receiving fabric design elements, as well as the blue and gray color scheme.
In the package you will also get an Alan Walker baseball cap, a really cool laptop sleeve with the AW branding as well as some Alan Walker brand socks, which was surely weird to find in a laptop box, but for any Alan Walker fan, this is a pretty cool product to have.
Additionally, the box the laptop arrives in doubles as a sample block where you can add tracks and create your own remixes using the dedicated pre-installed software.
While a little whimsical, for an aspiring electronic artist, this can be a fun way to create sick tracks.
What do you think of the Asus ROG Zephyrus G14 Alan Walker Special Edition? Tell us in the comments below and keep visiting Indiatimes.com for more game news and reviews.