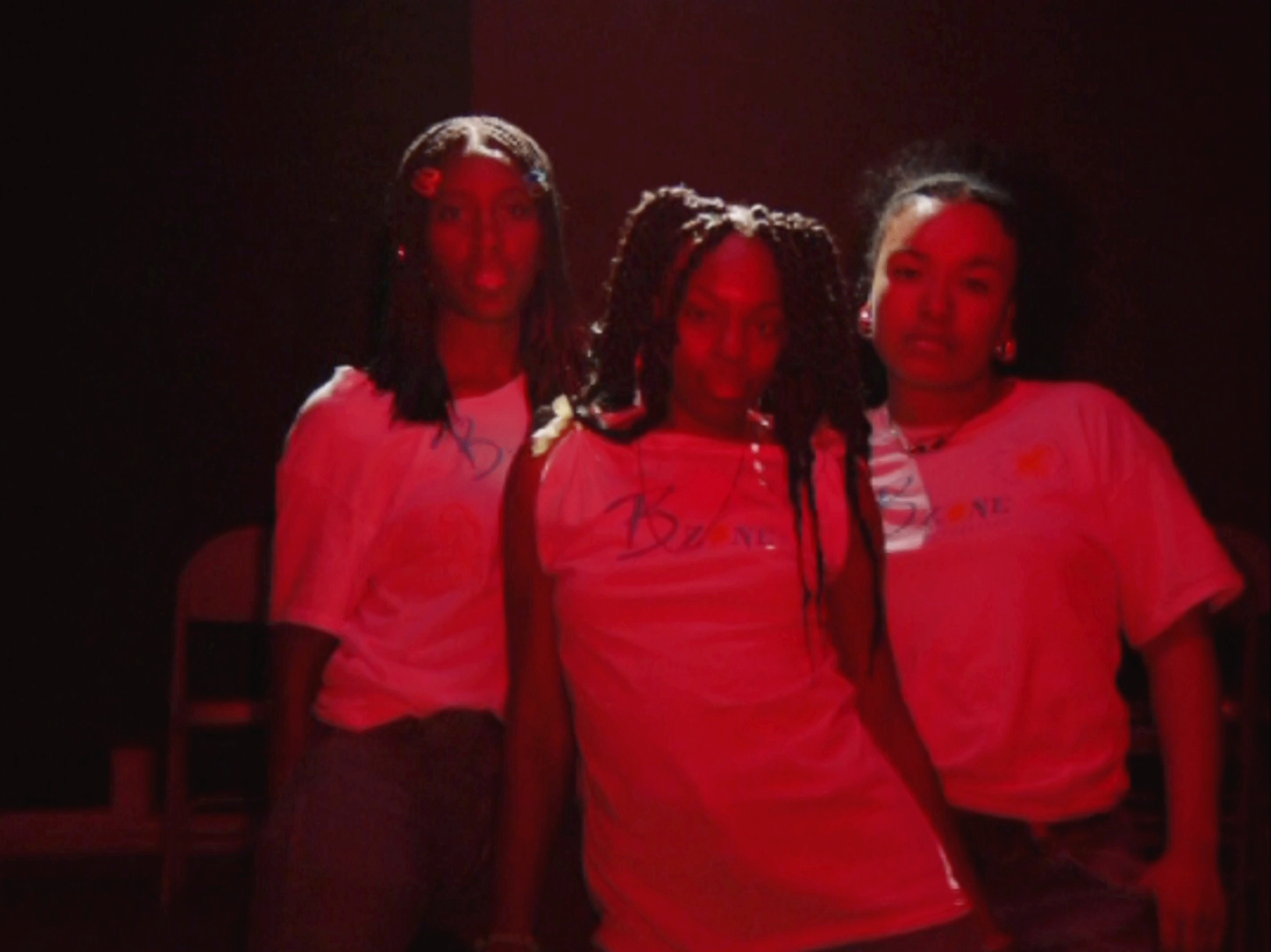 [ad_1]
Martine Syms
She's Mad: Season 1
Martine Syms, born in 1988 in Los Angeles, has established herself in recent years as one of the outstanding artists of her generation. His work combines extensive research into the history of mass media with humor and social commentary, using film, photography, installation, performance and writing. The exhibition presents the artist's work for the first time to a wider audience in Scandinavia. In a specially developed architectural installation, viewers are invited to an immersive presentation that features an investigation into Syms' episodic ongoing project. She is crazy (2015-present).
Martine Syms explores how mass media shape and frame identities and cultures. Drawing inspiration from film, television, the internet, social media, and ambient footage produced by phones and surveillance, Syms addresses how representations of black identity and gender appear in the public imagination. . The installation at Bergen Kunsthall consists of a purple metal grid construction that zigzags through the four aligned galleries, creating multiple vantage points for viewing the films, as well as delineating and restructuring the original architecture of the exhibition.
The episodic project She is crazy takes the form of a fragmented imaginary television series. The episodes revolve around a protagonist also named Martine, an over-performing stoner graphic designer who lives in Hollywood and wants her to be an important artist. The first episode Pilot for a show on nowhere (2015) tells a semi-autobiographical account of Syms' own life as a young black woman, merging flattering jokes about television culture with a video essay type narrative of the history of commercial television and its audiences. supposed targets, in the format of a sitcom. The episode Laughing gas (2016) draws inspiration from early cinema, in particular Edwin Porter's 1907 silent film of the same name, one of the earliest examples of a black actress, Bertha Regustus, playing an independent role on screen. Introduction to threat modeling (2017) is told through email exchanges, screenshots and an avatar, describing the effects of surveillance on subjectivity. The recent episode Bitch Zone (2020), takes us on an empowerment program for teenage girls founded by model and business mogul Tyra Banks. The non-hero (2021) was commissioned by Bergen Kunsthall. In this episode, Martine lifts the curtain on her battle with depression and suicidal ideation on her rocket trip to the art superstar.
While Syms' work is based on television production in the United States, these cultural formats have become influential throughout the Western world, also in Norway, and communicated normative ideals as well as various models of identity and desires.
The exhibition is produced in collaboration with the Museum of Contemporary Art Chicago, where the exhibition will open in summer 2022. A new publication will be produced in collaboration between Bergen Kunsthall and the Museum of Contemporary Art Chicago.
Also opening:
Sidsel Meineche Hansen
Inner child
Sidsel Meineche Hansen, born 1981, is a London-based artist. The artist's practice covers a wide range of mediums including wood, clay and metals through which handicrafts are made, to computer-generated imagery, VR animations, video and d 'other digital media. Hansen produces installations and works of art based on his continuing investigation of virtual and robotic bodies and their relationship to human work in the gaming, pornography and tech industries. Several of his works examine virtual reality in connection with capitalist reality by appropriating existing digital means of production. The exhibition Inner child at Bergen Kunsthall includes a newly commissioned virtual reality experience as well as recent sculptural works.
The work Inner child (pewter) (2021) features the title of the exhibition on the gallery wall as individual letters cast in tin with the letter "h" in the shape of a coarse kitchen knife. The letters and knife reappear as central elements in a live-rendered animation of the same title in which the knife falls and splits a brain in two. The animation is the opening sequence of a live-rendered virtual reality experience, designed by three AI characters in a bloody environment of interpersonal exchange. The artwork is based on the artist's interest in the healing phenomena of the "inner child" as a pedagogical approach to trauma and co-dependence, which was popularized by the auto movement. -assistance.
Reflecting on the artist's relationship with institutional settings, Hansen invited staff at Bergen Kunsthall to take an attachment style test based on their individual experience of intimate relationships. The work SECURED, (2021) which anonymously summarizes the attachment style of Kunsthall employees as a group, takes the form of a medal, stamped in silver, resembling the Norwegian military award for meritorious achievement of significance to the nation and the company.
The exhibition also includes a series of sculptural works by the artist which focuses on the social status of groups based on inclusion and exclusion. These include: House vs owner (rule of six) (2021), a silver cutlery set, originally hand-forged and reproduced to a total of six cutlery sets, referencing the limit of social gatherings during lockdown measures in the UK; and House vs owner 1 (2020), a fireplace that the artist made in bricks, as part of a house that can be made without building a family home.
Associated events:
Opening
Friday November 12 from 7 p.m. to 10 p.m.
Visits
Every Sunday, 2 p.m.
Every Sunday, 1 p.m., Families
Platform
Gry Rustad & Timothée Vermeulen
Saturday November 13, 2 p.m.
Platform
Mandy Merck, Sidsel Meineche Hansen, Thérèse Henningsen
Maintenance
Wednesday November 18, 8 p.m.
Screening and discussion
Location: Online
Platform
Louis Chude-Sokei
Desires for Objects: Slavery and the Sexual Life of Machines
Saturday January 8, 2 p.m.
Location: Online
Martine Syms
Incense Sweaters & Ice Cream, 2017
Tuesday January 11 6 p.m.
Location: Cinemateket i Bergen
Film screening in collaboration with Cinemateket i Bergen
[ad_2]