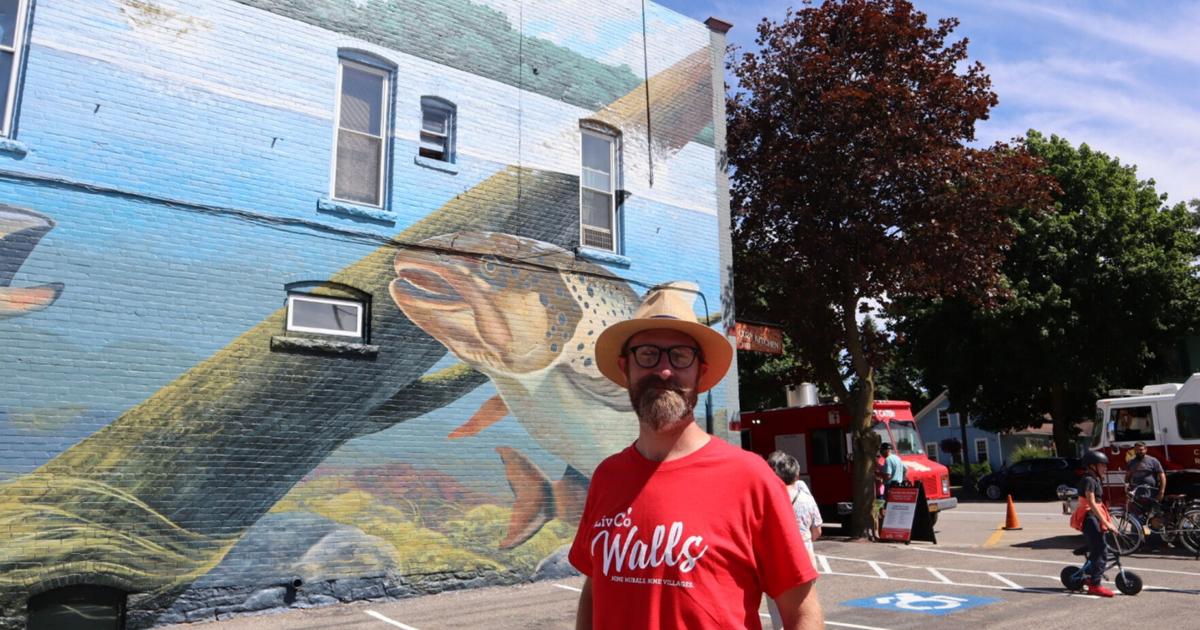 CALEDONIA – Schools of trout are leaping off the walls at 3103 Main St. in the village.
Muralist Tim Parsley's creation was unveiled on Saturday as part of the LivCo Walls Mural Festival. Parsley, of Fort Wayne, Ind., is one of 10 international artists painting large-scale murals in each of Livingston County's nine villages during the month of July.
"For here trout was a given given the history of Caledonia with the hatchery and the streams and I do a lot of the murals that involve wildlife or natural resources that have always been here and fit well with this town," Parsley said. .
The festivals continue on July 16 at Livonia at 1 p.m., Leicester at 3 p.m. and Geneseo at 5 p.m. Then on July 23 at Mount Morris at 1 p.m., Nunda at 3 p.m. and Dansville at 5 p.m.
Caledonia is home to the oldest fish hatchery in New York State and the Western Hemisphere. The hatchery was established in 1864 by Seth Green, who was known for creating a sustainably managed network of streams and rivers that would give people access to healthy, local food. His fish propagation techniques put Western New York on the map and remain an influential model for fish farming globally.
The project involved a lot of research, Parsley said.
"Don't trust your brain to know what a fish looks like, you have to go after the details and the information," Parsley said.
This research, he said, was about learning as much as possible about trout.
"You do a lot of visual research and you put together images of trout, so you can understand how they move and sometimes I can extract images that I find and put them in there and kind of paint and feel like 'they belong to the painting,' Parsley said.
Large and small trout are depicted on his mural. There's a trout jumping out of the water at the top of the mural.
Parsley said creating that underwater feel was important to him.
"You want to enter their environment. I think landscaping – it's an underwater landscape – and that's a big part of understanding a species that's been around for so long," Parsley said.
As well as understanding how fish move, Parsley said it's also important to have a good wall to work on.
"Each wall has its own personality. Some of them are old and steep and grumpy and some of them are smooth and perfect, you just have to adapt. This one has been perfectly fine and we haven't had any issues with the app or the techniques we want to use," Parsley said as he worked on his creation last week.
Caledonian resident Janine Susz was chosen as an apprentice to work alongside Parsley. She's not only a grandmother, but also a graphic designer and graphic design instructor at Bryant & Stratton College. She holds a BFA from Rochester Institute of Technology and an MFA from the Academy of Art in San Francisco.
"Everyone is here because they love to paint and love working on what will end up being a huge piece for the community," Susz said.
Being an apprentice artist, Susz said, was an opportunity to learn from a world-class artist.
"Everything – technique, process, patience, lots of patience. Take your time, be patient and it will come, we can always paint over it and don't cry over spilled paint. We had a lot of conversations over lunch about the process of doing murals versus painting on canvas, which we are all familiar with. The canvas is obviously much smaller. It's more detailed and not that you can't paint on it, if you make a mistake, but it's a lot smaller," Susz said.
Some of the hardest parts of working on the mural was trying to imagine what the finished mural would look like.
"The hardest part about a mural is being so close to it and then stepping back and having to look at it. So you go up and down or you go up and down on an elevator, trying to reposition to make sure what you're doing is in the right perspective and in the right process because it doesn't look the same when you're close to the wall It's a completely different perspective and being high or low then the point of view," Susz said. "No one will be in an elevator to watch this, so you have to make sure everything is in place when you go up the wall."
Bill White, owner of The Village Gallery in Caledonia, also participated in the project. For him, the painting week was an opportunity to learn about painting and gain experience. He said he learned to take his time with artwork.
"Be patient and be specific and deliberate about what you're doing. If you're hesitant, ask questions. The materials and process are quite forgiving, so if one makes a mistake, one can just paint over it" , White said.
These are lessons that Parsley hopes residents will remember for many years to come. He said working on the mural was also a great experience for himself.
"The talent has been great," Parsley said, "so it's a really good project to work with them as well."
In addition to connecting with Parsley, people like Susz said the project was also an opportunity to connect with local artists. They hope the relationship will last for many years to come.
"I'm thrilled to have amazing new relationships with artists here in our community and I'm so looking forward to connecting with them," Susz said. "These are people I didn't even know were here before and it's amazing."
Muralist Tim Parsley (left) works with apprentice Bill White on his mural in the village of Caledonia. It is located at 3103 Main Street.