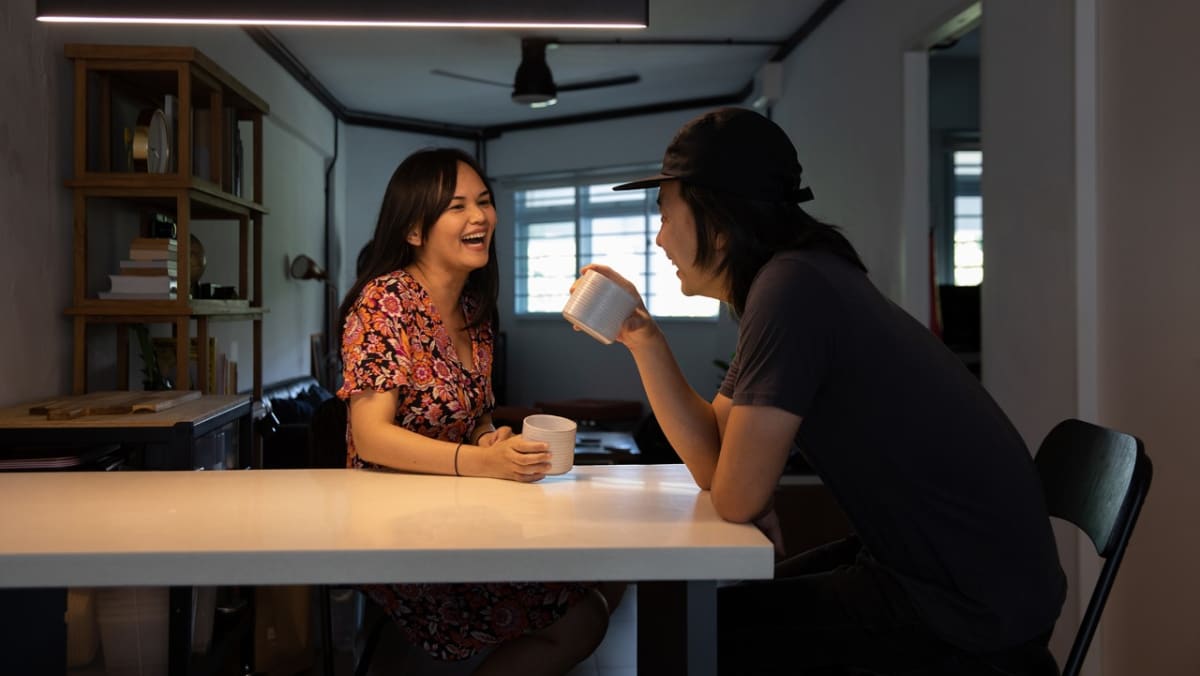 SINGAPORE — Moving to Singapore for the long term was not the plan for Jessica Santos, 34, a graphic designer who uprooted her life in the Philippines and arrived in the city-state on a job permit.
After all, the Filipina considered her native country, where her family lived, as her home.
But it was a fateful encounter with her future husband at her workplace, as well as surviving the coronavirus pandemic in Lion City, that redefined where she felt she belonged, Ms Santos said.
"Home means being really comfortable in the presence of family and friends."
Ms Santos is said to be flying regularly to Manila to be with her family – two sisters aged 37 and 38 and her parents who are in their late 60s.
She remembers her first visit to Singapore when she arrived for a vacation with her family almost ten years ago.
Growing up in Manila, the capital of the Philippines, she said she was immediately moved by how modern Singapore is compared to her home country.
"I come from a third world country, and the difference in efficiency and living comfort was really the main draw for me," she said.
Ms. Santos has married a Singaporean husband and is applying to become a permanent resident.
Beyond that, she had also taken a liking to the food here and found the people of Singapore friendly. Compared to the crime situation in the Philippines at the time, the relative safety that Singapore offered was also a major plus.
"I said to myself that I would move here… and when the opportunity presented itself, I took it.
She found a job in Singapore in 2015 as a graphic designer.
There were, of course, some initial culture shocks that she took a while to get used to. Everything went quickly, including the way people were talking and the homework deadline. And unlike herself and her compatriots, she also found that her Singaporean colleagues weren't very talkative.
"We (Filipinos) like to chat. In an office, before we start working, we'll ask you about your day, your weekend, your mom, your pets… anything to get the conversation started. chat," she said. "Here, not so much. You just get simple sentences and you get the idea that they (Singaporeans) don't want to talk."
But turn the conversation to food and Singaporeans will give you a list of places to go, Ms Santos noted. "To chat with locals, you just have to start talking about food. It's the way to their hearts."
Although she has become accustomed to the quirks of life in Singapore, Ms Santos did not originally expect to stay here long-term. After all, as a self-proclaimed art lover, she dreamed of moving to New York in the United States – a city she said was home to artists, musicians and other creatives.
Besides, she felt out of place here. Without his family, Singapore felt more like a workplace than a home.
A GREAT ENCOUNTER
However, things changed when she met her Singaporean husband Mr Aaron Low in 2016.
"It was love that made me want to stay in Singapore," she said.
They were colleagues at a publishing house in 2016, where Ms Santos works. It was his second job in Singapore – they were both made redundant in April last year due to the pandemic. Ms. Santos has since found work as a graphic designer at another company, while Mr. Low works as a freelance photographer.
In any case, Ms Santos recalled how Mr Low, who is now 40, first expressed romantic interest in her in late 2018.
She was initially hesitant at the time. "I always had plans to go to other countries and see the other side of the world, so I wasn't sure I could commit to being in a relationship (in Singapore)."
Mr Low said it was 'a strange place we were' when he discovered she had this in mind.